TouchWorks™
The real solution for wireless and web-based clinical automation.

The TouchWorks™ software solution provides Just Right, Just-in-Time Information®, enabling physicians to improve clinical outcomes, enhance financial performance, and save time.
Allscripts offers a unique approach to clinical automation, allowing physicians to start with a single application That enables practices to start with the tools that solve their most pressing needs first and demonstrate a measurable return-on-investment.
Using a wireless handheld device or desktop workstation, TouchWorks automates the most common physician activities including prescribing, capturing charges, dictating, ordering labs and viewing results, providing patient education, and taking clinical notes.
Rx+: Prescribing and Medication Management
Pocket Library™: Clinical References
Dictate - Dictation and Transcription Management
Allscripts also offers FirstFill™, enabling physicians to fill a patientís first prescription for the most commonly prescribed medications, at the point of care. FirstFill is a proven and highly effective way to improve compliance and outcomes, while providing a return on investment for the physician practice.
Contact us for information and/or demo of this great product (that X-Links with Lytec and other practice management systems.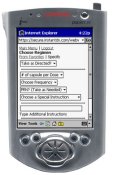 TouchWorks applications:
Provide real-time information for better clinical decisions

Streamline care processes to improve physician productivity
Enhance the physician/patient relationship
Provide a measurable return on investment